As a child, did you wish you had a superpower? 
Perhaps you wished for super strength? 
Or the ability to read minds? 
One common superpower wish was the ability to become invisible.  
How fun would it be to blend silently into the background on a whim?
That's why we're excited to showcase hidden TV's and speakers that are designed to disappear at a touch of a button.
At MDfx, we love the high-performance TVs and speakers we install for our customers and when you come to us seeking a solution for your technology, you'll know that we provide the most cutting-edge, bespoke technology for your needs.
But that TV and surround soundbar can be distracting and jarring to your beautiful home aesthetic.
Your home or design project is so much more than a media outlet, it's your living breathing space to entertain loved ones and showcase your unique style.
It's a conundrum we see a lot, your loved one wants the latest TV for movie and game nights, but you, on the other hand, would rather showcase that unique piece of art, picked up on your travels. 
Problem is, there's only one suitable wall where the TV could be placed and your artwork will vie attention with that big black rectangle.  
That 8k HDR TV is stunning for movie nights, but when not in use, it detracts from your unique style and architecture.  
Luckily, Future Automation has a solution and many hidden TV ideas.  
Future Automation have designed clever lifting and concealing mechanisms that produce ingenious solutions to elegantly conceal your screen when not in use.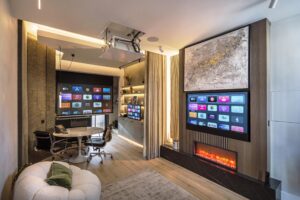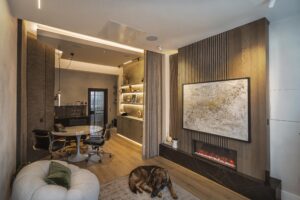 With Future Automation's smart designs, you can hide a TV behind the artwork, in furniture or even on the ceiling and in the floor. 
With just a touch of a button, the TV is stowed away, allowing you to use your room for much-needed quality time, entertaining or simply curling up with a book on a rainy afternoon.  
Of course, the TV is only one part of your home audio-visual experience.  
From a smooth jazz playlist, gently playing in the background as you entertain friends on a summer evening to that upbeat home workout playlist, its your that music sets up the ambience of your home and the tone of your day.
A complete home audio system can allow you to connect to your favourite track in every room and invisible speakers can make your music appear just like magic.
The Sonance Invisible Series offers hidden speakers for your home that are "Designed to Disappear".  
No more wiring or ugly 90's style boxes, the Sonance Invisible Series provides unbelievable sound quality with not a grill or wire in sight.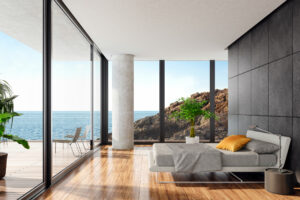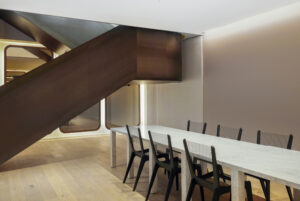 At MDfx, we understand the importance of creating a unique experience for each individual client.  
Our expertise ranges from historic listed buildings to modern apartments.  Our team can work with your architect or designer, so you can be sure that we can create the perfect bespoke system to enhance the design of your home.
We take time to really understand how you use your home, so we can provide you with the perfect solution. 
Come and Visit us in our showroom.
We'll make you a coffee or drink of your choice and show you some of the ingenious options available to conceal your TV and audio speakers.
Or book one of our discovery calls with Simon or Marvin.
So we can begin to get to know your unique audio-visual technology needs.
Or book an onsite Consultation.
We'll come to you and we'll work together to bring your hidden media dreams into reality. 
Together we'll use our installation superpower to make your home come to life.