We love to keep up with all the latest smart technology trends to ensure we can provide comprehensive and up-to-date advice on how to create the very best smart home for you. Here are some of our latest finds:
L.U.C.Y
We love technology that just makes life easier, and that's where L.UC.Y, the virtual home assistant comes in. From ordering your favourite pizza, putting your favourite artist on the stereo system, reminding you of important events or booking your local restaurant, this virtual assistant can help you out in ways you haven't even considered before. With an HD cam that can recognise faces of family members and an HD LED touchscreen, this product is definitely on our Christmas list! The project is still on its early stages, having last week launched via Kickstarter with the aim of raising €100,000, but we can foresee this tech really hitting it off in the smart home market.
Ecoisme
Energy efficiency and safety are two factors that we prioritise in our smart homes, so we are always on the lookout for products like Ecoisme. Do you ever have those 'did I leave the iron on?' worries once you've left the house? Ecoisme is an energy sensor that connects to your phone, giving you notifications if lights, heating and electronics have been left on. Energy efficient notifications can be life saving, letting you know if hair straighteners or kitchen appliances haven't been turned off. Clear dashboards of your energy usage are available so that you can see exactly how you're spending your energy bills and even show you where you can save more money.
Perseus – The World's Smartest Mirror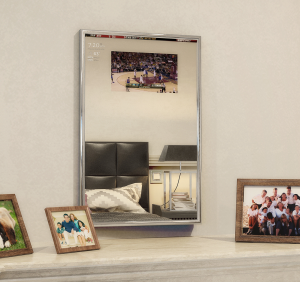 Mirror, mirror on the wall, what's the weather like today? We know how busy modern life gets, so multi-tasking is often essential to get everything done. Perseus is a smart mirror which can show you the weather and traffic reports to the latest fashions and your calendar, whilst you are getting ready in the morning. You can even watch make-up tutorials on YouTube whilst getting ready for a night out!